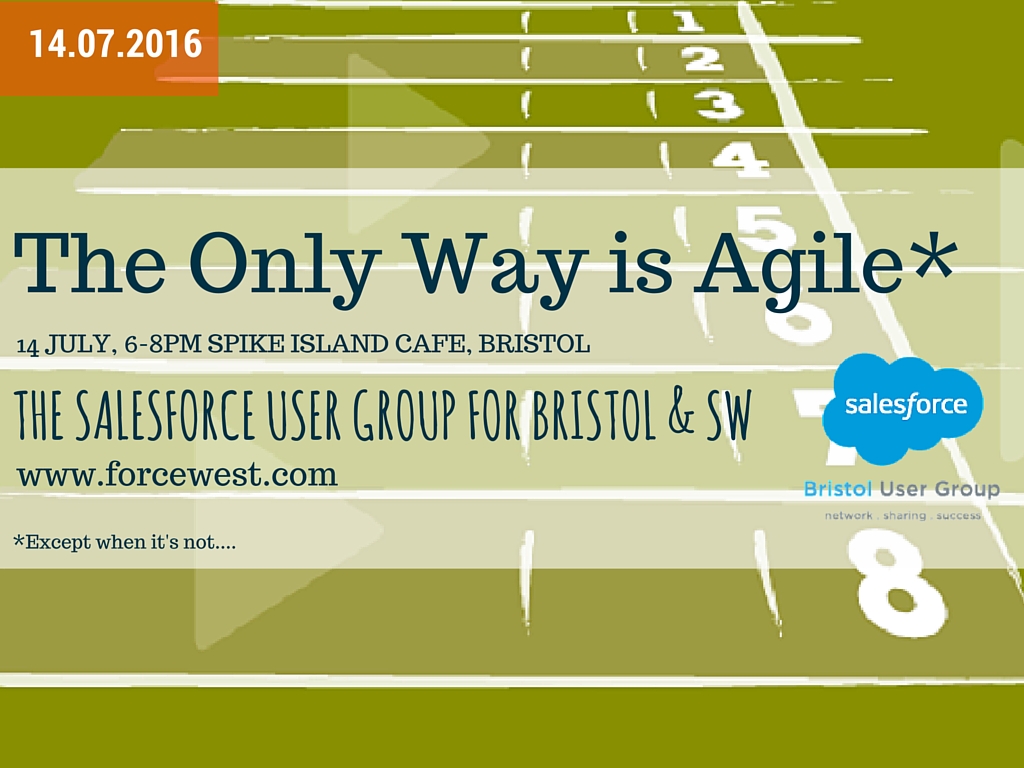 *Except when it's not…
Spike Island Cafe, 133 Cumberland Road, Bristol, BS1 6UX
It's the Midsummer Bristol Salesforce User Group, and we'd like to invite you for an evening networking on Bristol's harbourside, at the bright spacious café of Spike Island Artspace. Drinks and seasonal canapés will be provided by the makers of Bristol's award-winning Folk House Café.
And this evening, it's all about Agile…
We've got two fantastic speakers lined up to explain how powerful technology platform Salesforce.com plus Agile working practices are revolutionising organisations, large and small.
Gez Smith, Agile Coach and Certified Scrum Professional
With over 10 years experience using and introducing Agile into places like the UK Government, Lloyds Banking Group and Glastonbury Festival, Gez will begin the evening by presenting an overview of the approach:-
What is Agile
Where it comes from
How it differs from what you're already doing
Why Agile isn't just a process to follow, but a completely revolutionary way of changing the way you work
Why Agile isn't just about doing things more quickly whilst eating pizza
Along the way, Gez will explain the difference between a scrum, a sprint and a stand up, and help you recognise whether your business might benefit from or be harmed by adopting an agile approach.
Andy Mahood, Founder of Taskfeed & Salesforce Technical Architect
A certified Salesforce Technical Architect, Andy has been in the Salesforce world since 2009, moving from Dell to T'quila. He now focuses exclusively on Taskfeed, the fast and flexible project management app he has developed for the Salesforce platform.
In his presentation, Andy will tell the story of the signs he saw all around him that the world was crying out for more Agile project delivery on Salesforce.com. He will also chart the way that Taskfeed has matured in line with customer feedback, and what we can learn about the real world of Agile project delivery from these user demands.
Packed with hard won professional insight, there will be plenty to take away from each of these talks and put into practice in your own organisations immediately. 
Thank you to Taskfeed for sponsoring this event.