So you've chosen to go with Salesforce as your technology for business. But you still have another important decision to make – who will handle the implementation for you?

We asked business owner, Tom Powell, Director and co-founder of furniture retailer Oak Tree Mobility to offer the following valuable advice on how to get the right consulting partner to deliver on your digital transformation requirements.
1. Don't try DIY
"Don't mess around trying to build your own systems!"
This is probably the most hard-won bit of advice for any business. It may seem like a good option to build a bespoke system in-house, designed to fit your exact requirements. However, your requirements move on, and so does technology.  That's why a cloud platform such as Salesforce delivers: All the system maintenance and upgrades come as part of the deal. And this means you have a secure foundation and all the building blocks you need to build your bespoke system.
You may be tempted again at this point to consider configuring your system yourself.  The fact is, however, that you will see much better ROI on your licence fees if you bring in a specialist and get it right first time.
2. Engage an experienced partner.. and engage early
"My best piece of advice for a successful implementation is to engage an experienced partner and engage early."
Don't leave it to the last minute to start talking to your implementation partner e.g. the point where all the decisions have been made. Guidance early on can save you a great deal of time later on in the process.
3. The Salesforce AppExchange is a great place to do your research
The AppExchange is an online directory for businesses operating in the Salesforce ecosystem – that is to say, supplying consulting services or apps. It is the perfect place to do your research. Check out the reviews and the ratings. You should also consider who specialises in your sector, or your type of implementation.
"Go with a partner with a good reputation and a tried and tested implementation method."
The other important factor to think about is location. If you find face-to-face an important part of mix, then go local.
4. Choose a partner that has done similar projects before
No real explanation needed here – pick a partner who has the sector or technology experience you need, ideally both.
5. Choose a partner who can also deliver business analysis
"During the requirements gathering process we were able to really dissect what we had in place and analyse our objectives. Gary guided us away from simply using Salesforce to mirror what we already had, but through dialogue, took time to tease out what we could improve."
Your implementation partner should be working with you on the level of a business analyst as well as a technology specialist. Make sure your partner is prepared to challenge what you think you want (or what you've always done) and offer some alternative, technology-driven solutions which might just be a lot more effective.
6. Make sure your partner can offer ongoing system support
Getting up and running on the Salesforce platform does not end in a 'go live' date as such, but is more a journey of many mini-milestones. There is a point however, when you can safely say you have moved from 'implementation' to 'support'. Make sure you quiz your prospective partner on what that support looks like on an ongoing basis. Ask about prices, SLAs and how many hours you are entitled to?  Do you need 24/7 support, and if so, is it available and what does it cost?
Better to ask these questions at the outset when everything is negotiable.
---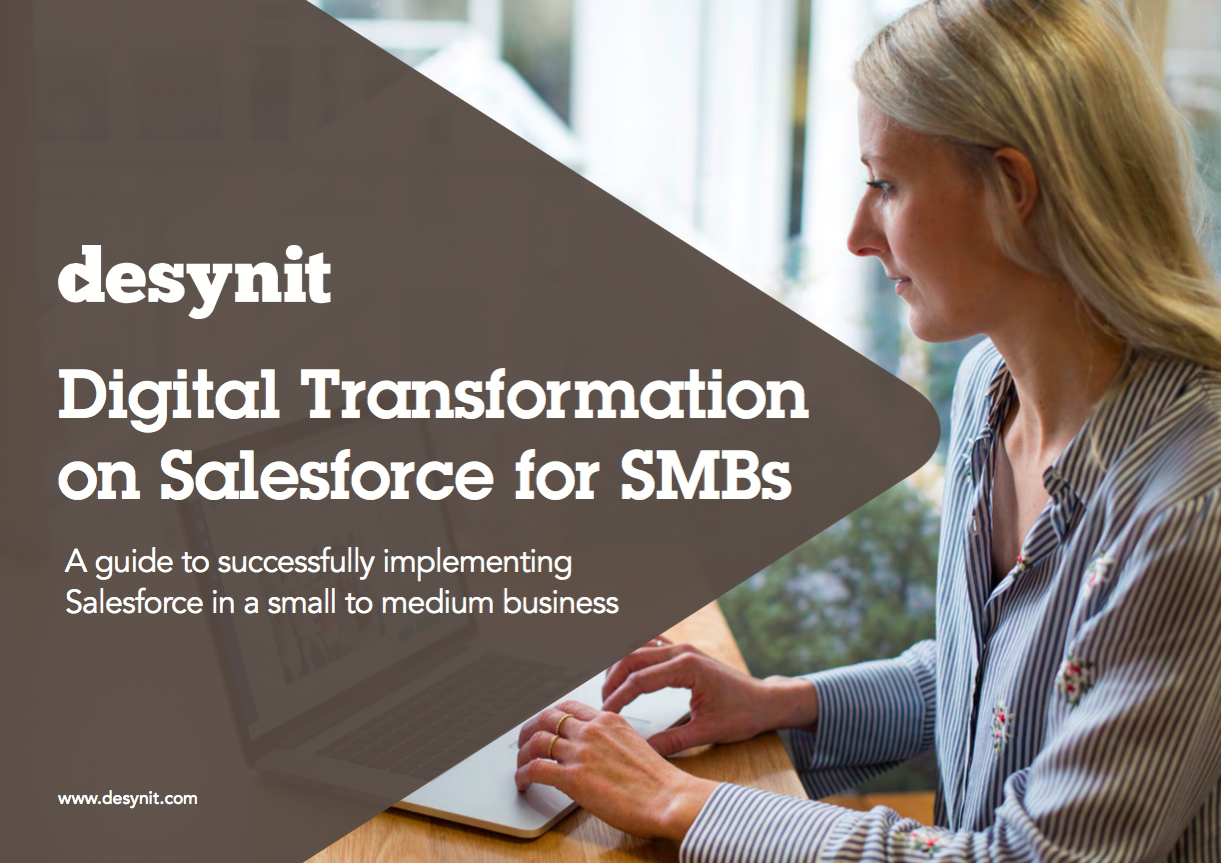 For more information on getting up and running on the Salesforce.com platform, take a look at our free guide to SMB digital transformation.
If you'd like to learn more about Desynit's support service, take a look here.