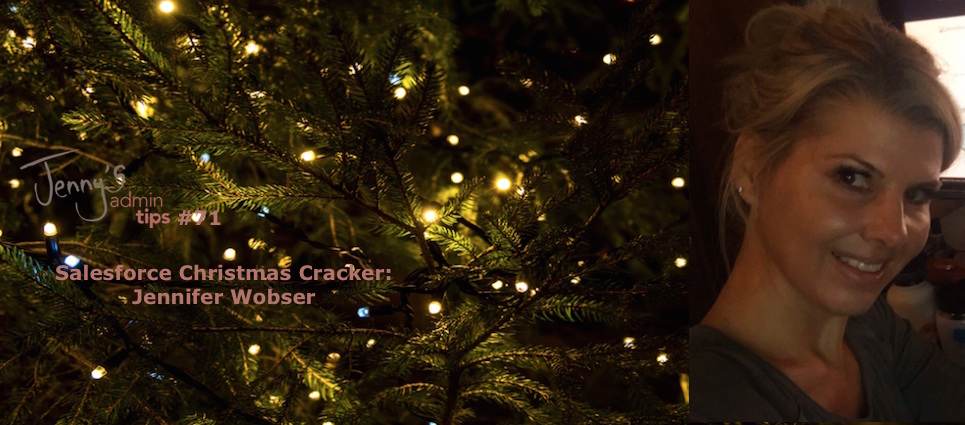 We have less then one week to go before Christmas. To start of the week I turned to someone who has played an important part in my Salesforce career thus far . Not only do I thank her for being a part of where I am today due to her belief in me and Salesforce support, but also for being a great mentor an inspirational part of the Salesforce ecosystem for everyone.
You only have to read on to see why! A lady who needs no introduction – welcome the truly awesome and No'1 Salesforce Admin – Jennifer Wobser.
What do you love most about Christmas?
Christmas is the one time of year that my family is all together in the same place. Unfortunately, I don't live close to any of my immediate family. Over the holidays, I am able to see them more than I do sometimes all year! Also, watching my son get super excited for Christmas morning is really awesome. There's nothing better than watching Christmas through the eyes of a child!
What's the best thing about Salesforce this year?
Most definitely the Ohana theme! I've been lucky enough to experience Salesforce Ohana since my first Dreamforce in 2004. To actually see what I have felt all of these years come to life is literally a dream come true. I used to wait all year for Dreamforce, and now I can just go on social media to chat with my Salesforce family anytime! The Ohana theme creates customers for life – what other technology career can you have that actually comes with free 24hr support for both technical and soft skills?
Throwback Ohana Circa 2005 – When Custom Objects were Released haha
What's the best thing you have learned from SF this year?
I have learned my place in the Salesforce ecosystem which prior to this year was not an easy accomplishment. With the addition of Trailhead badges/Social Profiles, community members can actually define their skills and experience. Before we had Trailhead, my 14 years of Salesforce Administration was just a story that couldn't be measured. I have learned to embrace being an Elder of our Salesforce Tribe with a responsibility to pass down my knowledge to the new members!
What is your Salesforce Advice for 2017?
2016 has been a rough year for many people. On a personal note, I have been learning how to be a single mother for the first time while caring for my terminally ill father who passed away the week after Dreamforce 2016. My advice for 2017 is to definitely take time for yourself and your loved ones. Always tell your friends and family how much you appreciate them and how you are in return, there for them as well. As for 2017 & Salesforce, completing as many certs and badges will only lead to good things in the future! Also, learning to embrace Lightning and all of the awesome functionality it has to offer will keep you one step ahead!
What is the best Christmas present you have received?
Oh geez, I know people have seen the pic on social media, but it has to be the Tandy Computer my Grandparents gave me in 1988 from radioshack. I was literally the only student in my last years of high school and early years of college to print my assignments in early Word/Excel prototypes! I can remember using spreadsheets to track my work hours & pay at 15 yrs old! Totally crazy to think of now!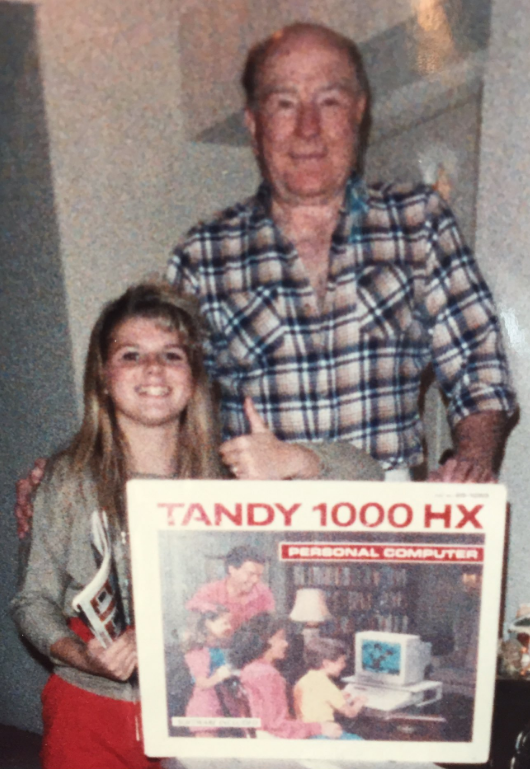 What is your Salesforce New Years Resolution?
To start back to yoga again in the winter and dig more crystals at the mine once it warms up for spring! I've had so much go on in 2016 that I haven't been doing things I enjoy as much. I realise physical exercise and being happy will contribute to making me as successful as I can be in all areas of my life.
What is your favourite Christmas Cracker Joke?
I'm going to be honest and confess that I had to go look up Christmas Cracker Joke to figure out this was really 'a thing'. Now that I know what they are, I'm going to have to go print some to take to my Mom's for Christmas! The funniest ones are probably not appropriate for your blog! 😉
What is your favourite childhood Christmas memory?
#1 Christmas memory leads to my maternal Grandma. I can close my eyes and remember every detail from the vintage 1940's Christmas decorations to the way her secret recipe 'Bourbon Balls' smelled. These 'bourbon balls' have been and always will be the centre of non-stop family jokes during the holidays! We still discuss theories on what happens to the leftover bourbon…
#2 Turning on Salesforce1 in 2013 for my mother as a Christmas gift. We worked at the same company, and I remember her being upset she couldn't see the orders that went out while she was off for the holidays. In her world, her pharmacy customers were friends that still called her on the holidays and would ask whether their plasma shipments made it out before the Christmas shipping deadline. I remember installing it on her phone so that she could see everything in Salesforce she needed without having to go on a computer! To this day, I still fee that was the best use of my Salesforce Admin skills – to help my mother un-stress over the holidays!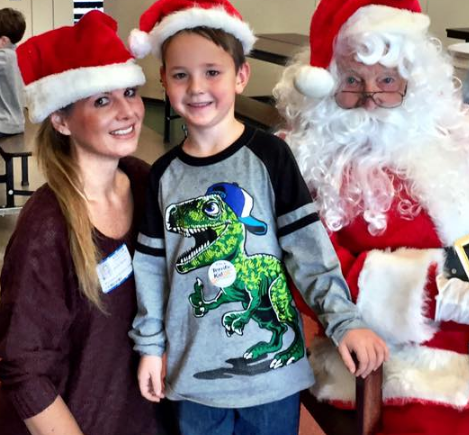 Merry Christmas, Jennifer! Thank you for the amazing insight to all the things you love and Christmas and Salesforce. We all hope you and your family have an truly awesome Christmas.
See you soon
Jenny