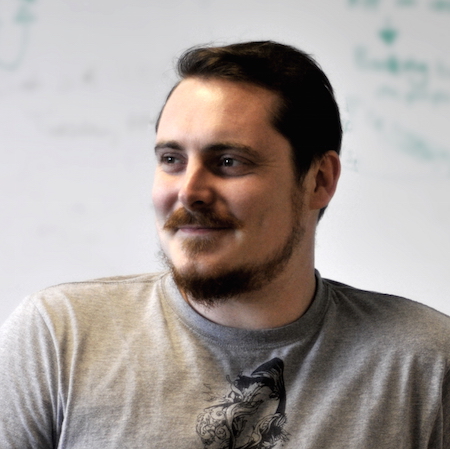 What Tom does for you at Desynit
Tom is an Applications Developer on the Salesforce team. He works alongside his colleagues, building and delivering your business projects and products on the Salesforce.com platform. He also provides Salesforce support.
How Tom got here
Tom's been a developer since finishing his Computer Science degree at Bristol University in 2005 and has been a certified Scrum Master since 2012.

After 4 years with an online insurance broker, primarily using Java, Tom moved to an organisation specialising in building online democracy tools on behalf of government bodies and other large global authorities. During this time, Tom had the chance to travel the world as a conference speaker while also running the operational side of the business. Aside from this, his real interest and expertise lay in the process design and implementation of pioneering solutions for small companies running on cloud services.

Tom has enjoyed bringing this knowledge and expertise to Desynit, working to deliver high quality technical solutions to our clients on the Salesforce cloud platform.
Outside of Desynit
If you are involved in the Bristol music scene, you may have already run into Tom, who has been playing his bass guitar and gigging in the city for over 10 years. As well as being a camper, wild swimmer, cook, chilli pepper grower, and a lover of local life and culture, he still hasn't given up on coming up with that million dollar idea.
Tom on Desynit
It's always been a goal to enjoy my work and truly believe that great relationships are at the heart of this. Desynit is a team full of hard working people who have each other's backs and genuinely enjoy spending time with each other. I'm honoured to be part of it.
Favourite Quote
To the rest of the Galaxy, if they are aware of us at all, Earth is but a pebble in the sky. To us it is home, and all the home we know.