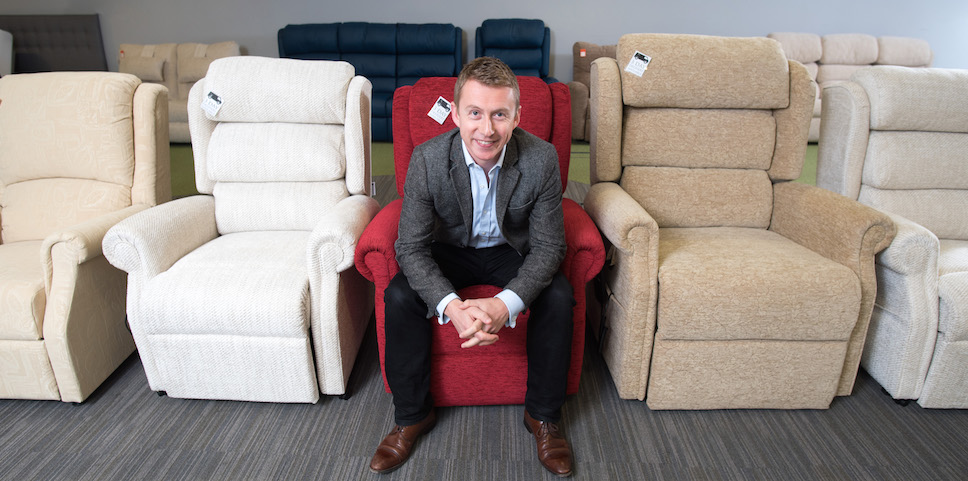 'Mighty oaks from little acorns grow'
When Tom Powell and Ricky Towler began their retail business Oak Tree Mobility in 2008, they literally were the business: The two co-founders and directors did everything themselves, from placing ads and taking sales calls, to delivering the furniture to the customers in the back of their own cars.
By 2016, with over 100 staff and a growing product line, this flourishing business needed an IT set up that would allow them to scale and grow with their business plan – a plan based on great customer service and high quality mobility furniture products. It was time to get the whole operation onto one platform and Salesforce was the prime choice.
This is the story of how this thriving Bristol SMB worked with Desynit to implement the technology that would allow them to compete and thrive in a data-driven digital era. 
Their Challenge
Like many businesses starting from seedling-size, Tom and Ricky had begun with paper-based systems, which had quickly been replaced by Excel spreadsheets and the Google Office suite of products; Sage and ACT came along soon after. As time went on and the business changed and developed, the Oak Tree team pushed these technologies to their limits, bending them to fit their needs. A foray into writing their own bespoke software from scratch had resulted in some major compromises…It had become a matter of urgency to get their thriving operation onto a technology platform that could grow with them and adapt to their changing needs.
"Using our previous system, it was so hard to get any changes made!"
It was clear that the future lay in one end-to-end solution that could drive each of their business divisions, from marketing to customer service, operations to accounts. The ability to make changes was key: no more long development cycles to put changes in place. As it stood, the needs of the team were changing at a much faster pace than their systems could handle.
"We wanted a system that was scalable and flexible, something that we could adapt and customise to suit our developing business needs."

Tom Powell, Co-founder & Director
The Solution
A three-phased rollout, beginning with the customer facing side of the business and then onto operations.
"First and foremost, what we do is customer relationship management, so we needed a system that enabled us to excel at that."
Tom had spent time evaluating a number of different business platforms that would be able to meet his requirements e.g. contact driven, flexible and scalable. After talking to different organisations using the platform, Salesforce.com was showing itself to be the winner. However, it was the Salesforce World Tour in London, May 2016 that proved to be the tipping point.
"When I saw how businesses were using the platform, and the results they were seeing, I was sold. Aside from the frequent new releases meaning that you automatically have access to the most up to date business technology available, there's also the AppExchange and all it has to offer in terms of off-the-shelf apps and solutions."
It was at this point that Oak Tree Mobility began talking to Desynit, and how they could partner with them to implement their vision for the future. After a period of meticulous requirements gathering and workshopping with all key team members and stakeholders, Desynit was able to recommend a solution. This was to be a three-phased implementation plan, to be delivered in a series of agile sprints.
Beginning with customer service, sales and marketing, the rollout focused on the customer facing side of the business first. The sales team were giving bespoke screens (built in VisualForce) to record important customer information, which in turn triggered the necessary workflow to make sure the correct follow up would take place. Oak Tree Mobility themselves were then able to implement Pardot Marketing Automation, using their new CRM as the data 'engine'.
At this stage all team members were given extensive training, both by the Desynit team and by their in-house Salesforce champions, including Josephine Wilson. It was also a period of learning, testing, feedback and training which was so crucial in engaging the team at Oak Tree with their new tools: and it really paid off in terms of full adoption across all the relevant teams.
The next two phases of the rollout are currently underway. Phase 2 brings in the functionality of Salesforce Field Service Lightning. This will give their network of agents, visiting the customer-base in their own home, the ability to record important information there and then, check on any customer information they may already have and to make contact with HQ in real time. Phase 3 will see Salesforce integrated with an modern stock management system (Enterprise Resource Planning or 'ERP').
The Results
Visibility across the business, Improved efficiency and greater flexibility: Salesforce has already had a positive impact on the bottom line and is set to deliver even greater benefits in the near future.
"Before we had Salesforce, I couldn't trust any of the data but now I know exactly what's going on. I have complete visibility across the business, live, right on my phone."
For Tom, it is this confidence in his business information that has brought about the most profound change. He and his team now have the ability to drill down into those figures and understand performance at any moment. Problems are dealt with as they arise, and decisions can be made in real time. One example of the changes that the team has made relates to the reorganisation of the call centre: where they previously had a one-size fits all approach, they have now broken the call centre into a number of specialised units, each with a bespoke approach and workflow. Sales have improved as a results, along with their customer satisfaction score.
Making the decisions is one thing of course – executing these changes is another challenge, but again this is where Salesforce delivers. Tom is able to see the changes he has requested go live without the long development cycles he had to endure with his previous systems set up. The fact that Salesforce.com is configured to allow changes via clicks, rather than expensive, bespoke code, means that the majority of change requests are handled by their in-house team.
The rewards are not just confined to the directors – Tom's wider team have also been reaping the rewards of their move to the platform.
Melissa Scull, Online Call Centre Manager
"Reports that would have taken me hours to compile previously, I can now produce in 10 minutes. Because the presentation in dashboards and reports is so much more visual, it's much easier to understand and present. Performance monitoring across the team has been revolutionised, we just sit down with the stats and look at what's been happening. I can manage my team more effectively now."
Maddy Buchanan, Offline Media Specialist
"I manage all of the advertisements that Oak Tree run in the print media. Now all the results from these ad campaigns are recorded directly into Salesforce against campaigns, so I can see the ROI on any ad we run, straightaway.

We've always had a lot of data, it was just in different places! Before we had Salesforce.com, I had to jump around to different places to find the information I needed. Now I have all the business information I rely on in one tab, and I can access it whenever and wherever I need it.

All of this means that I can be much more strategic and efficient in the way I plan our media, and as a result are our ad campaigns are more profitable."
Josephine Wilson, Head of Digital Marketing
"With all the data being available to everyone, there is such great transparency between teams and this has really enhanced our communication. Because Salesforce has been configured for ease of use, we can all feel the benefits, particularly in terms of data analysis. All of this helps develop the business."
The Future
The team at Oak Tree are fully aware that they are only just seeing the beginning of their new growth with the Salesforce.com platform. Their choice of platform means that all options are open to them as a business: technology need never be a barrier to them reaching their full potential.
Working With Desynit
"My best piece of advice for a successful implementation is to engage an experienced partner and engage early. Choose a partner that has done similar projects before.

Desynit really got to know our business and our process well, and grasped it very quickly. Because of this we were able to really dissect what we had in place and analyse our objectives, while gathering our requirements. Gary guided us away from simply using Salesforce to mirror what we already had, but through dialogue, took time to tease out what we could improve. I believe you can only do this by having a conversation with an experienced Salesforce team, such as Desynit.

Don't mess around trying to build your own systems! Go with a partner with a good reputation and a tried and tested implementation method."
I know that in the future, whatever the business needs, it will be catered for by Salesforce.