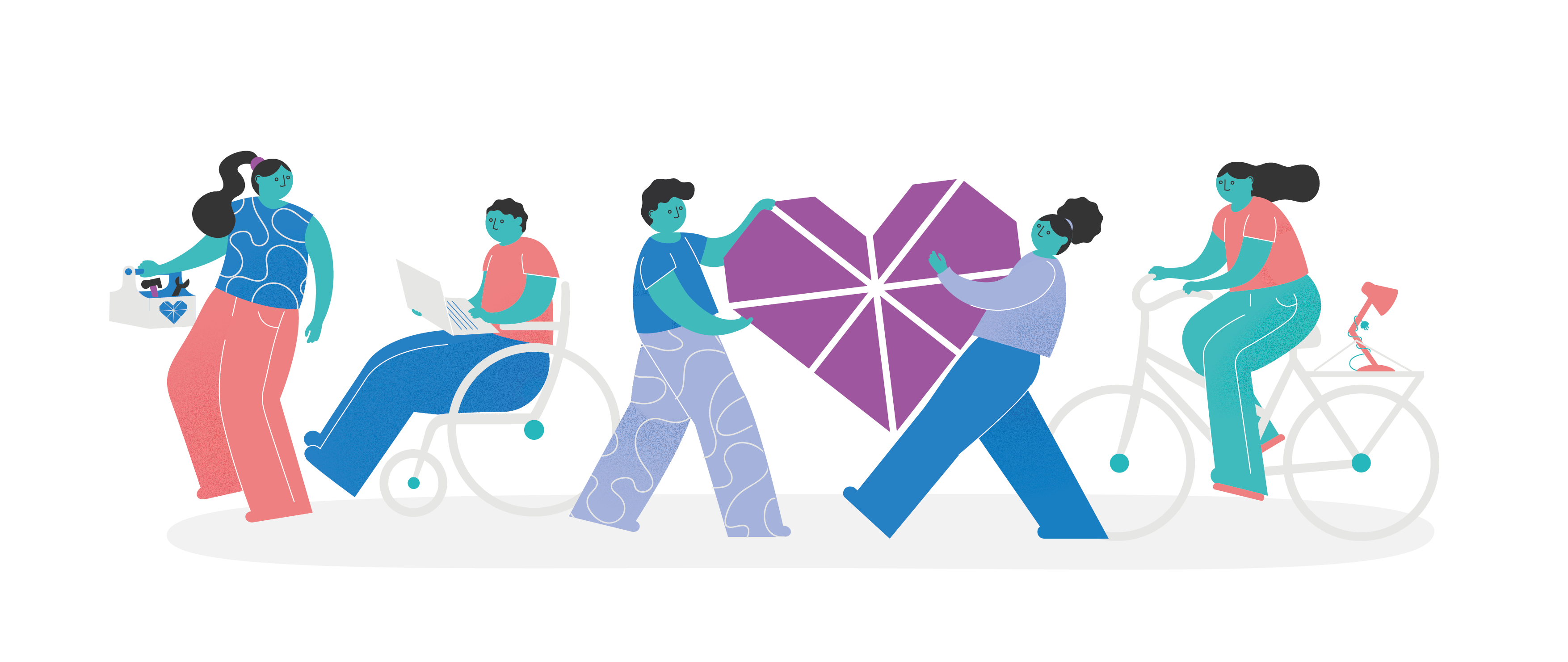 Desynit worked with Reuse Network to consolidate and renew their operations and data on Salesforce
Reuse Network cares about reuse. They are the only membership body in the UK that connects commercial and charitable organisations, to provide good quality secondhand furniture and appliances to households in need. In the process, they can divert these items from landfill, saving hundreds of thousands of tonnes of CO2. 
Successful operation of their service demands that their team keep a close track of who has donations to give and who would benefit. Their stock is donated by over 40 corporate partners, such as John Lewis. These goods are distributed onwards to their 130+ Reuse Network members.
It's an operation built on complex logistics. To begin with, it requires the rolling management of annual members, with timely communications, a renewals cycle and all the challenges of subscription. Then there is the very real physical task of ensuring the correct items are collected and delivered to the right place. Naturally, there are financial accountability requirements within this service. Finally, like all NFPs, there must be evidence of social impact. 
It was complex. And it was all on spreadsheets.
"Everybody had access to the spreadsheets, but nothing connected."

Claire Charras, Communications and Marketing Manager, Reuse Network
Their Challenge
Lack of uniformity affected every aspect of Reuse Network's operation.
For example, member relationships were managed mainly on an individual basis. Conversations lived in email threads. There was no way to communicate to the membership base or segment their members to tailor their service via demographics or transactional history. 
The same issue applied to the collection process: every supplier they worked with sent them information in a different format and followed a different approach. 
In a similar vein, there was no unified naming system: some items were labelled as being 'reused' and some as 'recycled.' Small differences in naming conventions led to big problems when the team attempted to put together the bigger picture. 
The result was that the team had effectively built a bespoke process for every supplier, along with its own language. Information existed primarily in separate spreadsheets and in the email accounts of individual team members.
The challenge was to move away from bespoke manual processes, take the heavy lifting out of the logistics, remove the data silos and build a 360-degree view of their membership and their operation as a whole.

That's where Desynit came in. 
The Solution
"It needed to be user-friendly. It needed to be something that the team felt comfortable in navigating, where you could find your way fairly easily."

Claire Charras
The Desynit team began by carefully breaking down Reuse Network's challenges and translating this into a set of requirements. Via this analysis process, it was clear that Salesforce should provide the infrastructure to support five core business processes.
Membership management

Item collection tracking and reporting

Auditing for Approved Reuse Centres (members)

Contract generation

Social impact reporting 
The solution was a balance of native Salesforce capabilities with some well thought out customisation. 
Management of member relations is core functionality for Salesforce. The standard objects, Leads, Contacts and Accounts, were fit to track important membership details. Desynit added value in configuring a custom object to handle member renewal via the Reuse website. 
To create a robust service for item collection and delivery management, Desynit built a custom app. The all-important collection note is now automatically generated for the team, and the relevant data is recorded in Salesforce to track and report, all via the app. 
Functionality that met with Reuse Network's very unique auditing requirements meant further customisation. Reuse Network can now book, track, and record audits for their Approved Reuse Centres (ARCs) seamlessly, thanks to the careful data structure mapping to drive powerful Salesforce reports.
"We wanted to be able to succinctly produce an invoice, as opposed to spending three days collecting all that information."

Claire Charras
When it came to contract and invoice generation, Salesforce already has excellent capabilities in the core product, but not enough to fully cover Reuse Network's unique partner contractual and financial model. Desynit was able to extend and tailor the existing Salesforce functionality to match their client's requirements.
Finally, Desynit looked at what information Reuse Network needed to generate its annual social impact report. Now social impact data from partners can be directly imported and recorded in Salesforce. With the correct data mapping in place, Reuse Network can generate the necessary business information on demand using Salesforce's native reporting capabilities while also allowing for flexibility in the future. 
The Results
Salesforce has already begun to transform the working lives of the Reuse Network team. For the first time, their information exists in one place, accessible to all. This is the Customer 360 view that they were looking for.
"Salesforce now has everything. Contracts, leads, account applications, collection notes, social impact reports – it has brought everything we do into one platform."

Sioned Hughes, Administrative Officer, Reuse Network
Every transaction with their members is recorded in Salesforce, including a complete communication history. They are no longer spending time and effort putting together the pieces each time they reach out to a partner but have all the details at their fingertips. Not only does that enable communication on a one-to-one basis, but the communication across the entire membership can be segmented, personalised and targeted.
What's more, no member is left behind with the new traffic light system. Via a dashboard, the team can see at a glance which of their members have had no recent communication and make sure they get in touch before the relationship has a chance to drift. 
Clever automation of the parts of their processes that had previously required intensive manual effort is set to save the team thousands of hours of work. These benefits extend to membership renewals, invoice creation, collection tracking and documentation, auditing, reporting and beyond. 
The Reuse Network team now has one place to record their membership interactions, allowing a 360-degree view of the members. Complete, accurate and up-to-date information at hand means that they can operate and communicate with confidence while measuring and reporting back on their social impact results. 
While their people become proficient on their new system, a support contract with Desynit has given the organisation access to expert help on-demand during their transition. Their unique technology infrastructure will grow with Reuse Network, allowing the team to implement the necessary efficiencies to power a successful, scaled-up future.
"I would be more than happy to recommend Desynit for any charity. They are transparent and open. They bring a general understanding of the problems to be resolved and then they find the solution within the parameters of Salesforce."