"The important thing is to not stop questioning. Curiosity has its own reason for existing"
– Albert Einstein
I stood inside a heart, dodged debris from an erupting volcano, was defeated in a galactic battle, danced with a robot, hung out with Einstein and fell in love with a nose twitching bear. Before you speculate, I haven't come back from a trippy Amsterdam holiday, but rather, I have returned from the futuristic CeBit, which was home to the Salesforce World Tour last week. Allow me elaborate.
The Salesforce World Tour headed over to Hannover in Germany for a whole week of community led learning, educating and astro giveaways. If you throw CeBit – a festival of digital innovation into the mix, the Salesforce community, new and old, were able to transcend. I mean did I mention that I stood inside a freakin' heart?! #MindBlown.
But wait. How does this wave of digitalisation fit into the Salesforce ecosystem and how can you assimilate, acquire and ameliorate [to] such innovation?
Salesforce and Einstein
Let me briefly bring your attention to the history and transformation of the Salesforce platform, articulated by non other than the khaki clad Salesforce Dev relations man himself – Peter Chittum , at the world tour.
"We are living in a smarter world. Everyone and everything is connected." Technology has changed and continues to do so. We have gone from 100k mainframes to 75B Smart things. We have gone through the age of the cloud, social, mobile, IoT (Internet of Things) and have landed at AI (Artificial Intelligence).
With AI we live in an age where Einstein has the potential to transform the way we work, Alexa turns off/on your lights and Robots teach us how to read thanks to amazing technologies at companies like Tanscorp. Guys, I am not making this up. We are not watching a Steven Spielberg film. Artificial Intelligence is real and it is not only transforming our personal lives, but the way we work. Let me bring you back to the newest edition to the Salesforce Platform, Einstein.
Watching Einstein gracefully walk and fall around CeBit (eesh those suits are a tough gig), I was reminded about the powerful capabilities of the product. For those of you who aren't familiar with Einstein on the platform, basically it is like having your own data scientist. It learns from all your data and delivers predictions and recommendations based on your business processes. The result? Smarter employees and happier customers…Watch this space.
The topic was hot. People from all over the world were interested to know how they could leverage the future of AI on the platform. So, we told them where to start with Trailhead.
I would recommend the following modules on Trailhead. Even if you are not ready for AI, these modules are great way to get a basic understanding of what AI is and how to see how it could transform the way business works.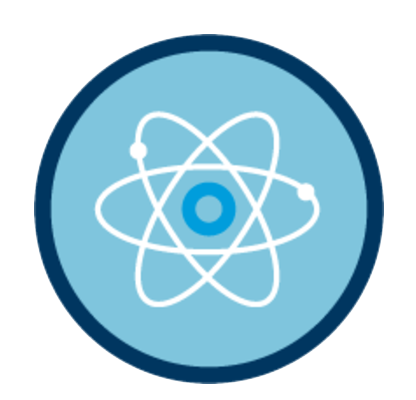 Artificial Intelligence Basics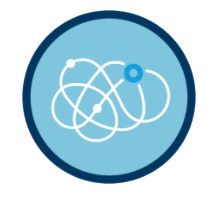 SF Einstein Features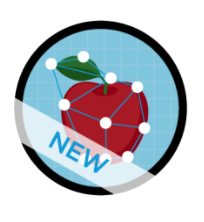 Harness Facial Recognition 
Going beyond the realms of AI with Virtual Reality
The sleeping giant behind modern technology, VR is certainly waking up and destined for great things. Let me first say, I am by no means an expert in VR. Nor was I able to explore the vast VR technologies that were blowing peoples minds at the Exhibition. However, the VRs that I stumbled across certainly left a lasting impression. Let me give you an insight.
Remember that heart I stood inside (mentioned earlier)? Well that was an educational VR for trainee paediatric heart surgeons at Stanford University. These guys are transforming the way surgeons learn by providing an interactive and immersive experience that allows them to; examine a 3D heart (as if it right there in front of them); learn about the composition of the heart; see and educate themselves on heart defects and much more. I left, dragging my jaw on the floor with a new found respect for an unbelievable profession.
Moving on from education, I was in awe of the Evrbit VR product which transported me to a worldly experience where gravity held no limits. With an an increased sense of reality, realistic dimensions and sweaty palms (we were flying over an erupting volcano!), this VR technology allowed people to interact with one another in what has been classed as the world's first synced group VR experience. Their target audience? Presentations, talks – any audience based meeting. You know what I'm thinking right? A VR Keynote at Dreamforce!
Back to reality with the Salesforce Community
When I wasn't gallivanting around the huge CeBit grounds, I spent my time volunteering in the Trailhead zone. I provided expert advice on the booths, presented, fell in love with #codey – the Salesforce code bear mascot and helped people learn Trailhead on the Quick Start stations. I have to say nothing gives you a sense of pride like being hugged by the person you just helped out with a Salesforce problem. Enjoy the Lighting experience Mr German Man!
As always, these events are a learning curve for me. And whilst I learnt so much from the Salesforce Ohana – Francis Pindar, John Stevenson, Greg Rewis, Stephanie Rewis, Christie Fidura, Will Coleman, Philippe Ozil, David Zulke, Peter Chittum, it was the attendees that taught me so much this year.
Allow me to summarise. CeBit and the World Tours over, have proven that when it comes to learning:
Language is no barrier!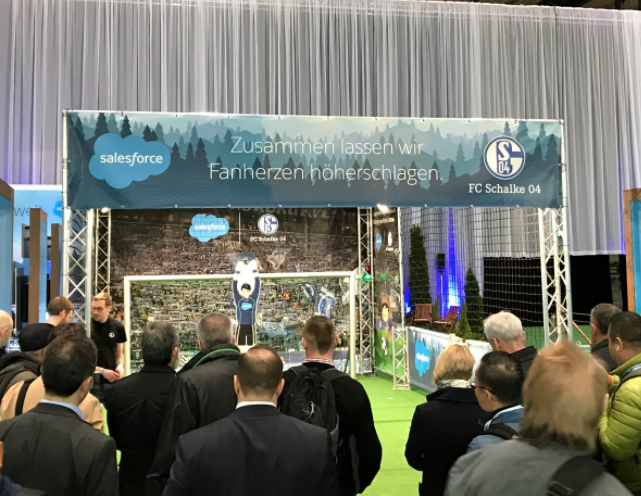 Disability is no barrier!

Education is no Barrier!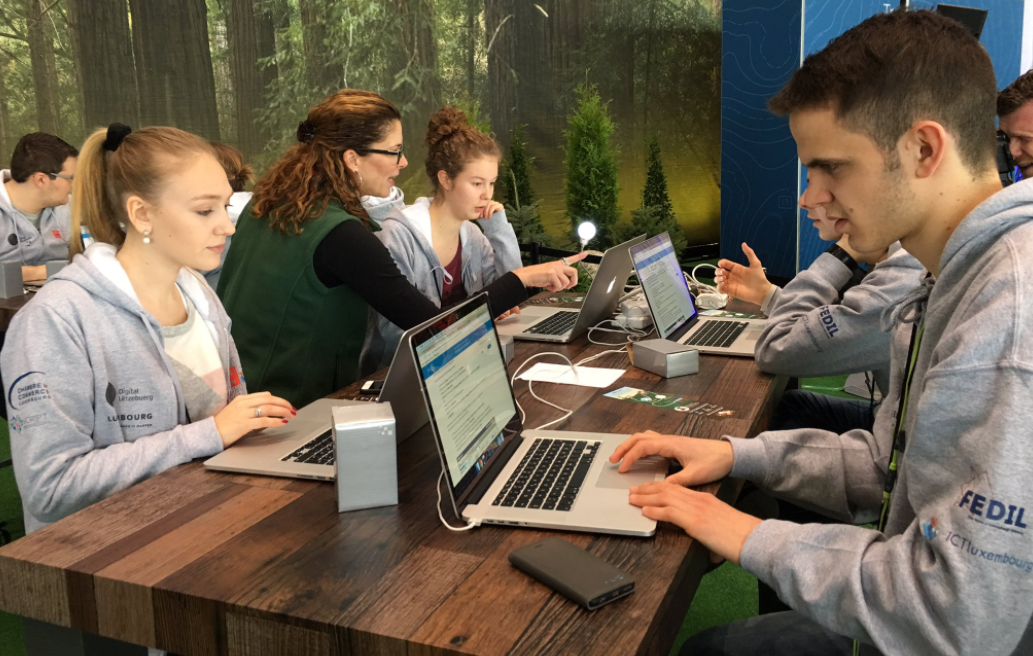 Diversity is no Barrier!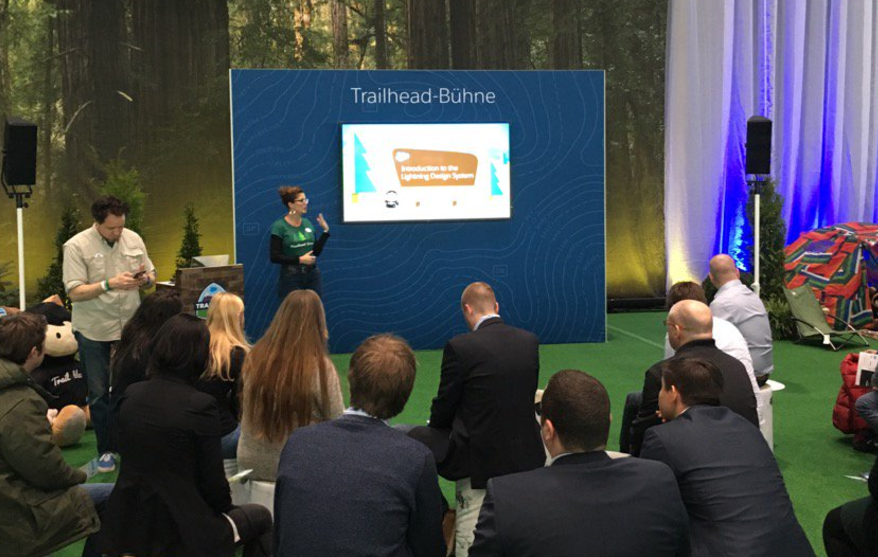 And with that, CeBit and the World Tour, you were wunderbar!