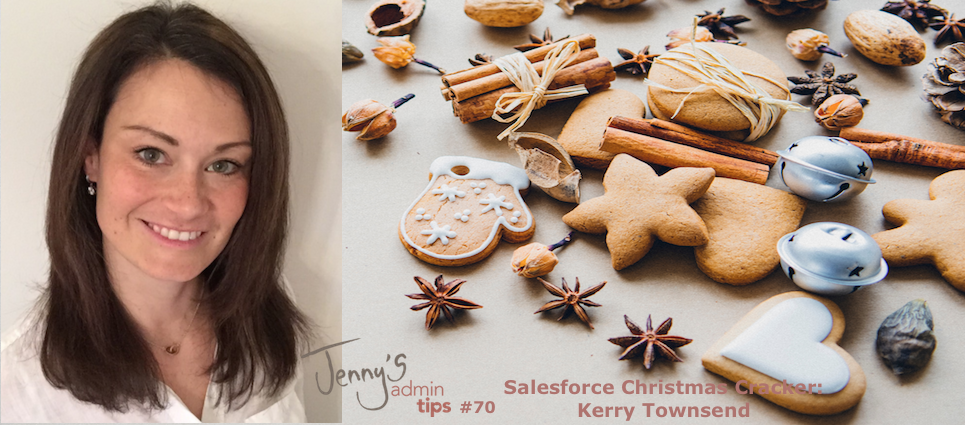 That's one day less before Christmas. So how about another Salesforce Christmas Cracker to keep you in the festive mood?
Today we have the amazing Salesforce Consultant, London's Calling and Surf Force Co-Organiser – (seriously, this women is a Salesforce MACHINE!) – Kerry Townsend.
What do you love most about Christmas?
It's a cliche, but seeing family & friends. My mum loves Xmas and the house is always brightly decorated with a whole of items she has picked up from the Christmas Clearance last year. A year on sometimes she isn't sure why she bought them.
It is definitely a collection of the good, bad and the ugly.
What's the best thing about Salesforce this year?
For me it has to be the events and in particular making the in-person connection with people that I otherwise only connect to online. I've had the opportunity to be involved with the organisation of some of these events which means I have worked with people and got to do things that I never expected. The more obscure include writing a creative brief for T-shirt design and talking about the impact of European Funding with the MP for Aberavon the day after Brexit.
What is your Salesforce Advice for 2017?
From where I'm standing it looks like there is another boat load of capability coming in the platform next year so keep a firm hold of that learning mindset. I think increasingly, the ability to take advantage of this capability, is dependent on how quickly an Awesome Admin can take their users though the change journey. There is definitely an opportunity for creativity and Storytelling here particularly around full Lightning Experience adoption and readiness for AI.
What is your Salesforce New Years Resolution?
To remember to say thank you (hopefully this is a continuation). My best bits this year have only been possible because of people and they have only been as rewarding because of the people. I have a particular thank you to the team's everyone that made London's Calling & Surf Force happen. Everyone that supported me on my Lightning Component Development journey for my Dreamforce talk and the Salesforce Voice of the Customer team and Karen Mangia for allowing me to be part of her book Launch journey
("Success with Less").
Oh and I will endeavour to take my own advice.
Kerry, you are amazing! Thanks for sharing your Salesforce year with us. We look forward to seeing more of you in the Salesforce Community in 2017.
Have a truly great Christmas.
Jenny