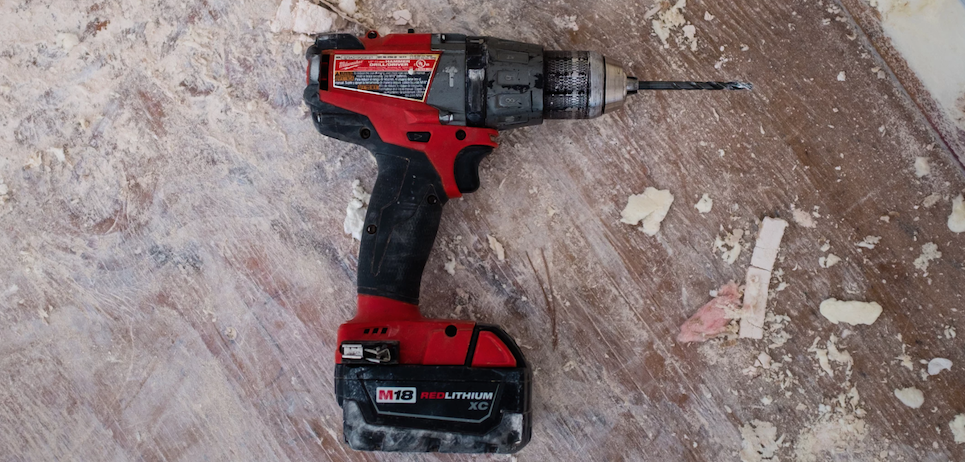 So you may have heard the new buzzword – 'FSL' making the rounds in the Salesforce Community and have probably been asking yourself what it is. With my knowledge of the feature – Field Service Lightning, I aim to bring you up to date with the key features that Service Users are falling in love with. However, before I rally on, let me first give you a brief overview of what FSL is.
Let's say your business has a team out in the field servicing your customers – they could be wrench-carrying technicians fixing that street light, home healthcare nurses or even maintenance attendants performing physical maintenance jobs on tennis courts! The key point here is that despite what they do, it's about knowing who is in the field, where they need to go, what they need to do and having the ability to update them about jobs in real time. FSL does this by enabling you to schedule appointments, dispatch technicians based on skill level and location, and resolve customer issues in one seamless, mobile-friendly user interface. Let the rally commence!
So why not grab a glass of prosecco, strawberries & cream and join me centre court while I show you how Service Lightning is serving Salesforce users and their clients well!
The Ball's in your court –
Scheduling Policies
Wouldn't it be ace if you could not only balance great customer service with travel minimisation, but also schedule the right resource to the job without having to check if they are; in the area, skilled to do the job or have the right operational hours. With Scheduling Policies and Scheduling Policy Work Rules the ball really is in your court.
A scheduling policy is basically a set of rules set up by your business that determines which resources are available when scheduling appointments.  A policy is defined by Work Rules (created on the back of your Field Service Resource config) e.g. Match Skills, Territory, Max Travel Distance etc. These are then assigned to your scheduling policy. (See image below). You can have many scheduling policies e.g. Customer First, High Intensity, Emergency etc and they can be assigned to individual bookings.
Once your Salesforce admin has done the basic config and assigned individual operational hours, skills, service territories and travel limits (to name a few) to your resources, you'll certainly be at an advantage when it comes to appointment booking.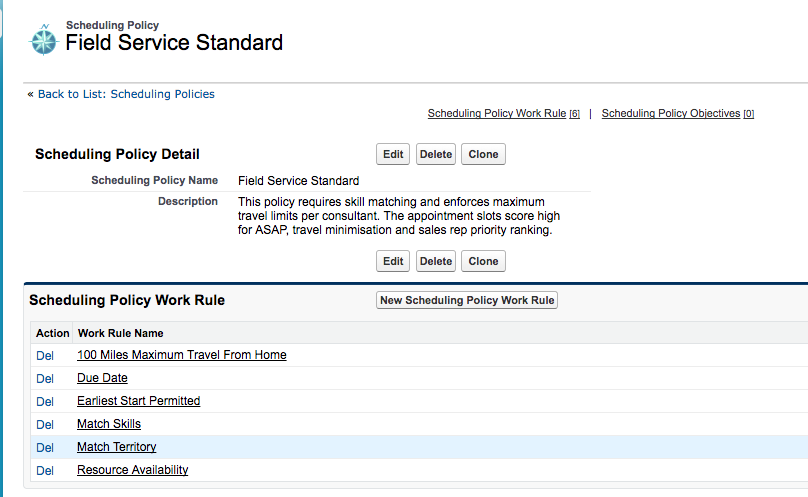 Game, Set, Match –
Service Resource Allocation
Matching the correct resource to the job has never been so easy. Once the leg work has been done with your scheduling policies, there really can be no faults when it comes to booking those appointments. The only decision to be made is how you want the match to start!
Field Service Lightning provides you with three appointment booking options:
Emergency Booking – This uses the emergency scheduling policy and locates the closest available field rep. It also allows the service rep to dispatch the appointment immediately. With this option, it really is first come first serve.
Get Candidates – This allows the service rep to select the resource and then schedule a time. This is good if you are looking for a specific field rep to take on an appointment. Andy Murray it's your serve!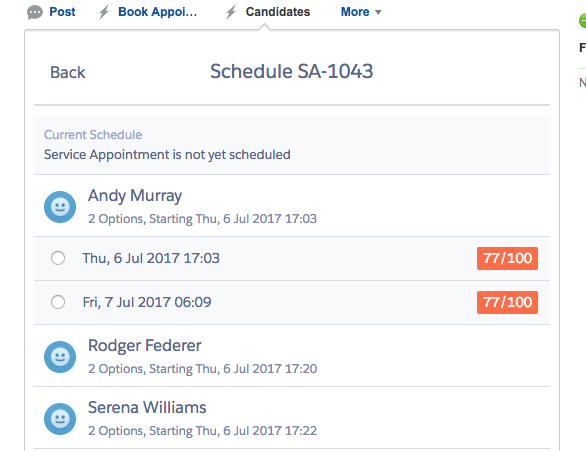 Book Appointment – This option brings up multiple time slots and days which then allows  the rep to book an appropriate appointment time with the customer. Once the day/time is selected your Work Rules do the rest by selecting the right resource for the job! That's game, set, match for sure!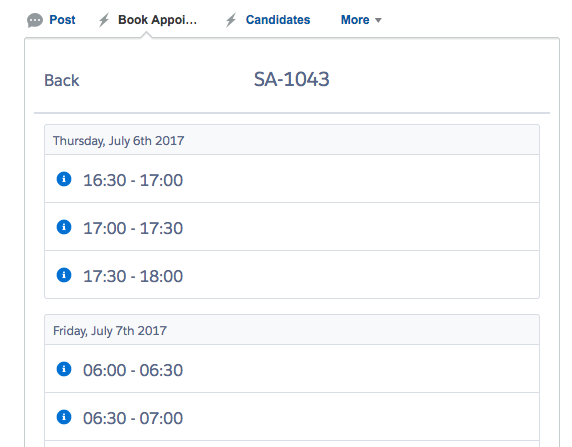 Hawk Eye View –
Street Level Routing
Once you have your appointment scheduled to the correct resource, Field Service Lightning gets to work to estimate the arrival time for your field rep. It works this out based on the customer's address and last known location of your field rep on a 'as the crow flies' calculation. 'As the crow flies' calculation!? *Drops Racket* You're right. This feature didn't take into important factors like road information or obstacles such as bridges. But pick that racket back up as FSL upgraded and introduced Street Level Routing. Yay!
SLR computes the distance along roads or transportation routes. This provides the most accurate distance as it is based on information and measurements of actual road speeds and the expected travel speed based on road type. SLR equals better optimisation of schedule.

*Lines indicate estimated travel time, first from field rep home location, second from the last appointment location. 
Umpiring at it's finest –
Dispatcher Board
Visually pleasing to the users eye, the Dispatcher Board (or Gantt Chart) is causing a racket in the Service Cloud court.
From a centralised location your dispatcher board not only ensures the right job is assigned and routed to the right mobile employee, but your dispatcher also gets a complete view of all scheduled appointments. Asides from appointment handling, the board view is easily customisable, you can see alerts for issues that need attention e.g. appointment violations due to overlaps, and the dispatcher is able to track and monitor service deliveries in real-time on a map via the Gantt Chart.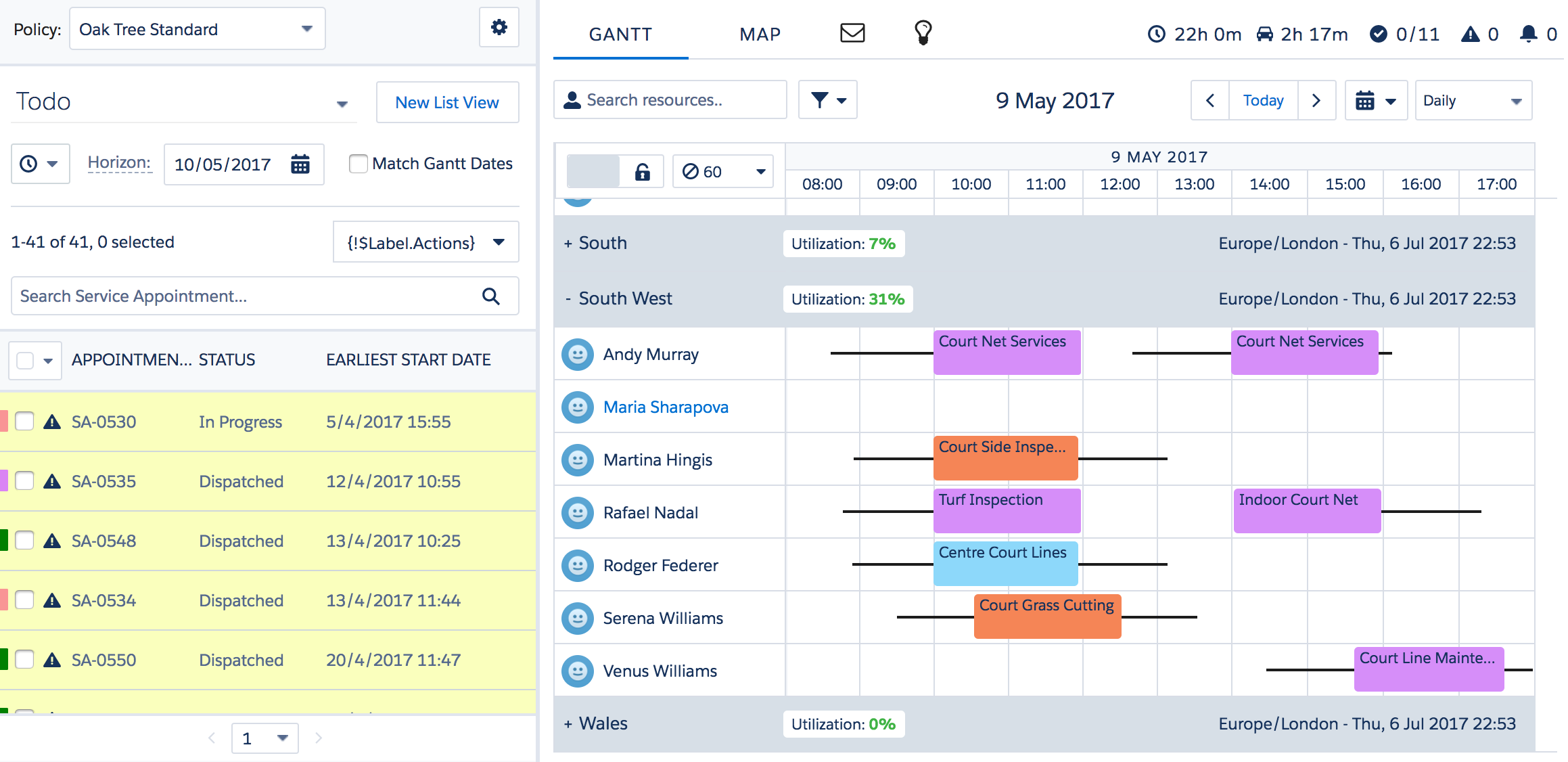 Before you reach breaking-point let me serve you one last feature.
Fault Handling
– Offline Mobile App
Allow me to intro-deuce the star of the match – The stand alone Field Service Mobile App.
Mobility is an integral part of FSL. As a result the app has been designed to enable your service organisation to manage and optimise your technicians in the field. The mobile solution provides mobile employees with the critical information they need at their fingertips, increasing their efficiency and productivity. The app includes:
Offline functionality which is great for when your reps are servicing courts out in the sticks.

The ability to send and receive notifications to manage work orders  

Record performed work

View knowledge articles

See steps for completing the job,

Scan barcodes,

Capture signatures, even when offline.  

Also with GPS capturing the current field service location, reps can make better decisions throughout the scheduling and execution processes.
There's certainly no faults when it comes to using the FSL app!
Phew! That's your lot for today. For more information on FSL integration click here, leave a comment below or tweet @jenny_bamber.
Until next time
Jenny