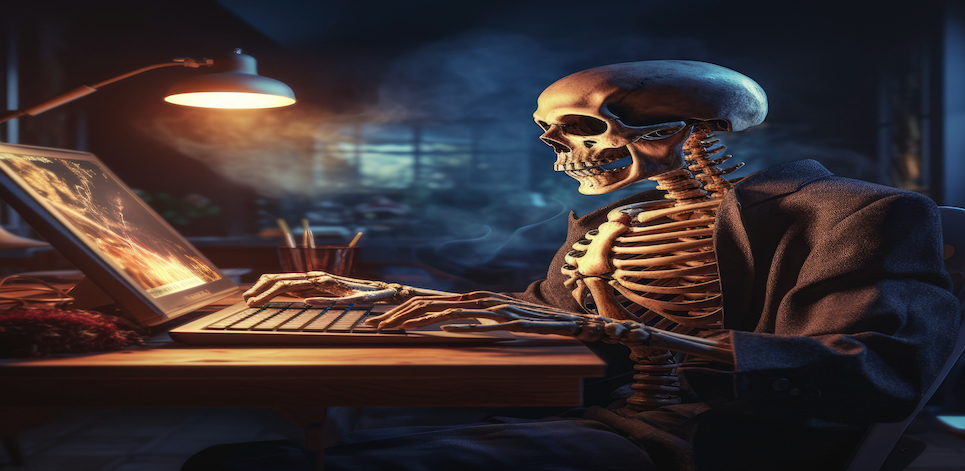 Cue spooky music… It was the dead of night and whilst trapped by a sleeping toddler clutching my neck, with no chance of transferring her to her cot, I thought "how scary could it really be?!" to change my career and become a Salesforce Administrator. Well, roll on a year later, and after much study, I landed my first Admin role. The process however, would have been much more terrifying if it wasn't for these useful tricks and treats which helped, me, a midlife-Mum get to grips with using Salesforce a lot quicker.
5 Wizardry Salesforce Administrator Tricks
1. The thought of navigating some records can have you quivering in your boots – but don't let that stop you from working smarter! Instead of scanning the page for that field don't forget that you can always use this

keyboard shortcut if you can't quite find what you're looking for on the screen! And even better, Salesforce has its own list of Shortcuts to help you work more efficiently! 
2. A browser full of teeny tabs with no way out or back in is something plucked from your worst organisational nightmare! But this doesn't have to be reality thanks to this extension: Colored Favicons chrome extension. Extra tip: it can be useful to keep track of what org you're working in if you regularly switch between orgs and is especially useful to differentiate between live orgs and sandboxes. Because we have never done something in Live thinking it was a Sandbox right!?…The Horror! 
3. Use at least two monitors! Hunched over a single screen? Give yourself and your back a
break, unless this is the look you are going for? …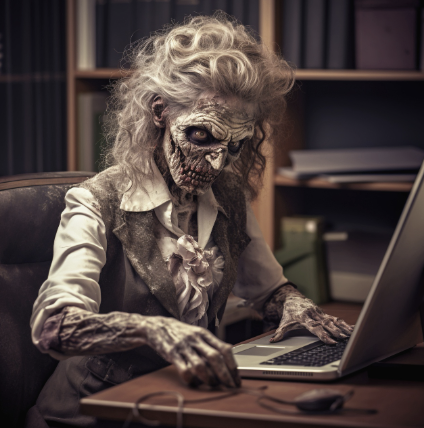 Also, just because you are a Salesforce Administrator, doesn't mean you can't tap into the Developer way of working – why not go for three screens. I dare you!
4. The curse of the Formulas brackets, need I say more! Yes, because this useful tip means no more pulling your hair out when troubleshooting that syntax! Use Notepad++  when writing formulas colour code your Functions as it colour codes so you can see when one expression starts and ends. This breaks up the formula in to bitesize sections to help you to read the formula you are putting in place. No more hair-raising formula moments!
5. Multiple field names with the same Label – a real life Frankenstein moment for sure, and an Admins worst nightmare. Argh! But thanks to Salesforce Show Salesforce Api Name – you can now make API names visible on the Object. Phew, a little helps a lot in this case!
5 Useful Salesforce Administrator Treats 
1.Is there anything more boo-tiful than knowing where fields are used in Salesforce? It's been here a while, but this feature 

is the key in your Admin role! This nifty button can be found at the top of any field in the Object Manager and is a key feature when reviewing where fields are in Objects, Flows, Page Layouts, Report Types etc. This one for me really was love at first bite!
2. Now let's creep it real, Data Structures in Salesforce can be mind boggling – especially when you are new to the role! The  Schema Builder , although not for all, I find really benefits from a visual way to see how Objects are related. Just remember that the blue line means it's a Lookup Relationship and the red means it's a Master-Detail relationship. 
3. Until I started my role in Salesforce, I underestimated the power of List Views. But now they are even more powerful thanks to Enhanced List Views! To be able to choose what fields of a particular Object you would like to see, or to filter Records based on certain conditions – abracadabra, now you're talking Salesforce!
4. The admin for Admins can be a real life horror show. But with Inline Editing in Reports and List Views – you no longer need to navigate to a record in order to edit it, so long as you have in-line editing enabled with the "Enable Inline Editing in Reports (Lightning Experience Only)" option checked.
5. This new feature is quite simply errie-ssitable, especially if you are dealing with orgs that have a qazillion users / permissions sets! To help with user and licence management, the Permission Set Reports – is a real treat if you would like to see what Profile, Permission Sets a User has been assigned. 
Whether you're a seasoned Salesforce Administrator, or like me, a bit of a newbie, I hope these little tips help you to keep your cool and remember that, much like the protagonist in a scary story, you will survive to live another day and tackle the next Administrator query – but this time you'll have more tricks (or treats!) up your sleeve to tackle it.